Meet the MN Cycling Center Board of Directors
Rick Fuentes, PR Manager, Minnesota Nurses Association
Rick Fuentes has more than 30 years as a professional communicator, including almost 20 years as a journalist working in newspaper, radio, and television in markets from California to Minnesota.  Since changing careers to public relations, Rick has been a strategic campaign advocate helping clients raise hundreds of thousands of dollars, pass bills at the legislature, and dominate news media attention.  Currently, he manages public relations and social media for the Minnesota Nurses Association.  Rick earned his Bachelor of Journalism degree from the University of Missouri and his Master's in Public Relations from Kent State University.
Andy Lageson, Retired VP, Dero Bike Racks
Andy started at the Dero Bike Rack Company in 2007 and was the General Manager from 2012-2017.  He was the president of the St. Goose bike racing team from 2011-2016, and is currently on the board of Taco Cat Racing as treasurer.  Andy has been racing at the NSC Velodrome since 2011 and also participates in road, gravel, cyclocross and mountain bike racing events.  He is a fulltime bike commuter and spends many hours annually volunteering and advocating for better biking and walking infrastructure in Minnesota, US and Canada.
Jason Lardy, President, Nomad Marketing (President)
Jason brings 25+ years of strategic marketing experience to the MN Cycling Center. He is the President of Nomad Marketing, a strategic marketing consulting firm supporting small and medium-sized organizations. Jason has been responsible for product marketing and business development for consumer, commercial and industrial organizations including 3M, Telex Communications and Corel.
Jason has managed the marketing and communications activities for the NSC Velodrome since 2007 and is an active racer. He was a volunteer leader with InnerCity Tennis from 1999-2015, training and managing volunteer coaches and developing on-court curriculum.
Jeffery Sweitzer, Architect – Principal/Owner, J.Sweitzer-Architects LLC
Jeff has 41 years of ongoing architectural practice as a general practitioner in the Minneapolis Mn. area with 5 different firms, Bentz,Thompson, Rietow Architects, Miller Dunwiddie Architects, Sharratt Design Co. UU Design LLC and currently J.Sweitzer-Architects – LLC, with responsibilities including the full spectrum from the interview process through construction administration for most building types, residential as well as commercial. Jeff has developed the designs for the MN Cycling Center. He is an avid road cyclist.
Eric Ware, Principal Engineer, Boston Scientific
Eric's first real job was in a bike shop as a bicycle assembler.  His interest in the mechanics of the bicycle lead him to become a Mechanical Engineer.  At Boston Scientific, he creates anatomy models for education and product development purposes He has been an instructor of the New Rider class at the NSC Velodrome and has helped coach the Junior racers.  He also was the lead mentor of a High School First Robotics Competition team for 5 years during which he developed original STEM curricula to aid in the preparation for the robotics "build" season.
Charlie Warner, Owner, Omnium Events (Secretary)
Charlie has over 15 years of event management, marketing and web development experience. He was the founder and director of Nine13 Sports NW – a nonprofit group focused on improving kids health through cycling in the Portland Public School District. He oversaw all day to day aspects of the organization including fundraising, program development, partner management, strategy and operations.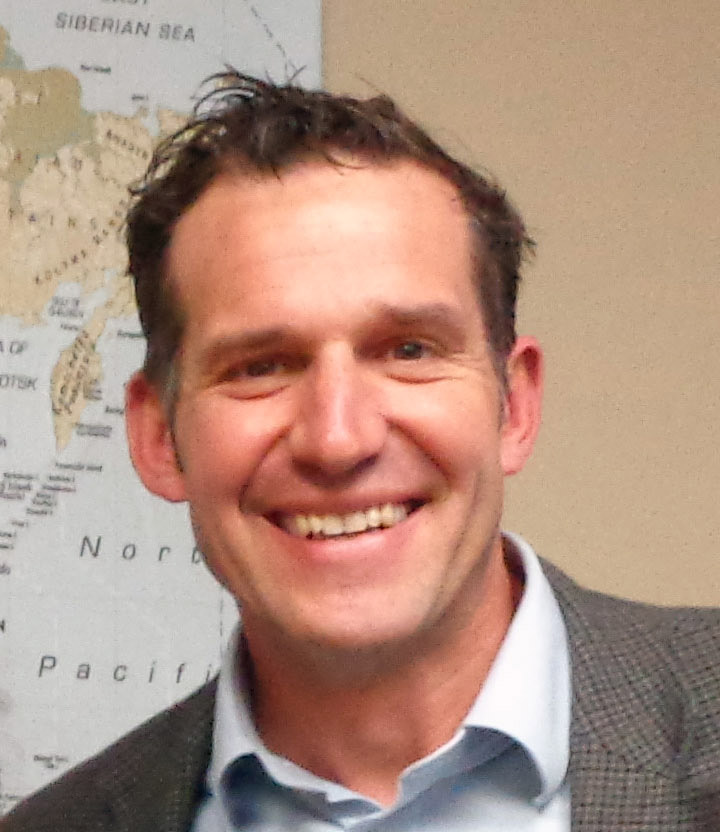 Jeff Washburne, Executive Director, City of Lakes Community Land Trust.
Jeff Washburne has served as the Executive Director of the City of Lakes Community Land Trust since November of 2002.  He previously worked at Twin Cities Neighborhood Housing Services from 1997 – 2000 and 2001 – 2002, serving as the Executive Director the latter 2 years.  Prior to his nonprofit housing experience, Jeff worked as a construction supervisor and trainer for a residential construction firm in South Korea, a YMCA Program Manager in New Mexico, and served as a Peace Corps Volunteer in Honduras.  He holds a M.A. in Public Administration from Hamline University and a B.A. in Psychology from DePauw University.  In February 2014, Jeff completed the 18-month NeighborWorks Achieving Excellence in Community Development Program at the Harvard Kennedy School.
Pat Whelan, Owner, PJW Automotive, Inc.(Vice President)
Patrick Whelan, entrepreneur and owner of PJW Automotive, a successful auto repair facility in New Brighton since 1980, attended the University of Minnesota as an English major, graduate of AMI's Accredited Automotive Manager program. Pat has been involved in numerous community and industry related boards including President of the Twin Cities North Chamber of Commerce as well as President of Alliance of Automotive Service Professionals (AASP) Currently certified as a USA Cycling Coach, Official and Race Director and Track cyclist.
Bob Williams, Operations Director, MN Cycling Center
Bob Williams has been active in bicycle racing for 50 years. With no track in MN in the 1960s, he frequently traveled out of state to learn and practice track racing. Bob was Minnesota State Champion in both road and track racing in 1971. The climax of his racing career was from the late '70s to the early '80s when he spent 3 seasons racing in Belgium on both the road and the track. It was there that he learned the basics of high-level track cycling.  Bob is one of the founding members of the Minnesota Cycling Federation and organized several road racing events in the 1970s and 1980s.
Bob was involved with the development and construction of the velodrome at the National Sports Center.  In 1996 he was asked to direct the cycling program at the NSC and has held that position ever since.  Bob is responsible for all of the cycling activities at the NSC, including scheduling, permitting and logistics of running the weekly local and occasional national level races. He develops the training curriculum, trains and manages instructors and is responsible for the maintenance of the facility. Bob also manages field rentals for the entire NSC complex.
Nick Zawadski, VP, Zawadski Homes (Treasurer)
Nick started his career as a CPA with KPMG. From there, he sharpened his financial skills in various corporate finance roles.   Growing up surrounded by the building industry, he eventually joined the family business. Nick is responsible for managing all of the company's home construction and remodeling projects. Nick will be found racing one of his bicycles when not in the office.
MN Cycling Center Advisory Board
Mark Dillon, Vice President at Meyers – retired
Mark is an active cyclist and former track racer.
Rick Erickson, EVP Business Development, Agosto
Rick is a co-founder of Agosto and serves as its EVP of Business Development. Since 2001, he has attracted and retained major managed services clients and has grown Agosto into a leading cloud aggregator and top Google Apps provider for both enterprise and small-to-medium sized businesses. Rick has more than 16 years of experience developing high-performance teams at both the corporate and departmental level.
Rick is an avid mountain bike racer.
Jim Grell, Founder, Modern Cafe
Jim is the founder of the Modern Cafe, for more than 20 years, a fixture on the Northeast Minneapolis restaurant scene.
Jim is a passionate cyclist, with years of racing experience under his wheels.
Dorian Grilley, Executive Director, Bicycle Alliance of Minnesota
Dorian has been a community advocate for many years. He is currently the executive director of the Bicycle Alliance of Minnesota, a bicycle education, promotion and advocacy nonprofit founded in 2008. He has worked with nonprofits as a volunteer or staff for thirty years. He was the executive director of the Parks & Trails Council of Minnesota, an advocacy and land conservancy organization, from 1996 to 2008. Before that he worked for the Minnesota DNR for seventeen years. He also serves on the board of directors of the Alliance for Biking and Walking based in Washington, D.C. and was a board member of Mississippi River Trail, Inc. for several years. He is a bicycle nut and rode 25-30 miles round trip daily (all winter) for 25 years and raced for more than a decade. He still rides daily for transportation and recreation but sometimes chooses to cross-country ski or sail his ice boat instead. He did his undergraduate work at the U of M Twin Cities and graduate school at the University of Wisconsin Madison. He, his wife and two children and their twenty bicycles have lived in Mahtomedi, Minnesota for over twenty years.
Dorian is a special advisor to the MN Cycling Center board.
Jeffrey A. Hilligoss
Jeff is an experienced investment advisory and capital markets executive.  Most recently, he was President of Green Tree Investment Management LLC (GTIM) and Senior Portfolio Manager of Walter Capital Opportunity Corp.  He holds a Bachelor of Science degree in biochemistry from Indiana University, an MBA from the Tepper School of Business at Carnegie Mellon University and is a graduate of the Wharton/Spencer Stuart Director's Institute at the University of Pennsylvania.
Jeff is a life-long bike racer. He grew up at the Major Taylor Velodrome in Indianapolis, where he worked as an instructor for the velodrome's inner city youth program. Jeff has won multiple honors on both the road and track, including: Indiana State Road Race Champion as a Junior in 1980 and 5th place at the 1985 US National Madison Championships. Jeff is a member of the Indiana University Little 500 Hall of Fame. He is actively involved in the Twin Cities cycling community, is on the Board of Directors of the Minnesota Junior Cycling Team, and is a partner in Angry Catfish Bicycles + Coffee Bar in Minneapolis. 
Louis Moore, Retired Congressional Staff Member
Louis is a former district staff member of Congressman Martin Sabo's office in Minneapolis. He is the President of the Major Taylor Bicycling Club of Minnesota and is an avid cyclist.
Pat Sorensen, Owner, Penn Cycle
Pat Sorensen is the Owner and President of Penn Cycle with 7 Twin cites locations that were founded by his father Elmer Sorensen. Pat has worked closely as a dealer advisor for Trek, Schwinn and other bicycle companies. Pat served as a transportation commissioner for the city of Richfield for 3 terms. At the Commuter Choice Awards in 2007, he was given a Lifetime Achievement Award for his cycling advocacy and for promoting commuting options at his company and in the wider community.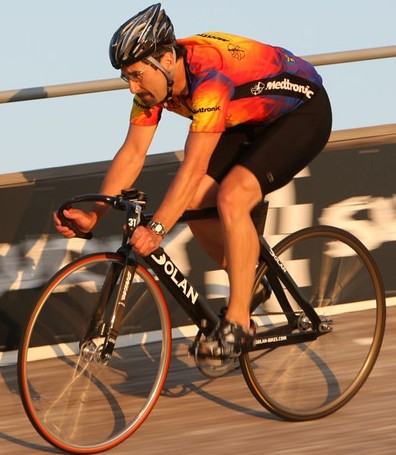 Mark Stewart, Senior Pricipal Scientist at Medtronic
Mark Stewart rode his first track race in Northbrook Illinois in 1973 and he has raced at the NSC velodrome every season since its construction in 1990.  His favorite race gear is a 51x15t.  In recent years his mechanical engineering skills have been put to good use doing repairs to the aging track.  An avid bike commuter, he rides to work at Medtronic where he serves as a Senior Principal Scientist and Bakken Fellow.  He spent the first 12 years in Medtronic Corporate research, working with gas plasmas and surface chemistry modifications to create new implantable pacing and defibrillation leads.  In 1998, his research shifted to the field of cardiac electrophysiology, with a focus on developing curative therapies for cardiac arrhythmias.  He enjoys igniting young people's interest in science, including that of his grandsons.
Elizabeth (Betsy) Stretch, K-8 STEM Curriculum Integrationist, Minneapolis Public Schools
Betsy has held many positions with Minneapolis Public Schools, including thirteen years as a middle school science teacher and two years as the Teacher In Residence at the Bakken Museum and Library. As the STEM Curriculum Integrationist, she is researching and building an integrated STEM vision for Minneapolis Public Schools. Betsy has built a unique bicycle-based science unit conducted in Minneapolis sixth grade science classes. She is an avid cyclist and commutes to work regularly by bike.